Swimming with dolphins & watching whales
1200 Rs
1050 Rs per person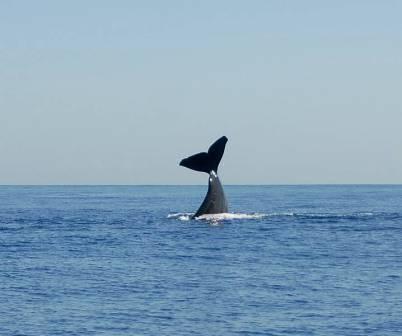 On Mauritius west coast you have the unique opportunity to watch dolphins frolicking in the water. The skipper of the speedboat will take you to the place where you can watch the dolphins. You will even have the chance to swim with them and watch them at first hand in their natural environment so do not forget to take your snorkel, fin and mask. On a lucky day you can find yourself in a group of 20-30 dolphins at one time. The mother dolphins with their babies are very special and impressive to watch. If you listen carefully you can hear the dolphins 'singing' under the water!
Some companies only want to earn money with these dolphin trips and they chase them in order to get close to them. Living under such a stress factor, the dolphins will sooner or later find another place to rest.
But not all companies are like this. Our partner makes sure that the dolphins are treated in a respective way and the chief skipper even leads an environment protection group. In this group they fight for new laws which will help to protect the dolphins and whales.
It is more fun knowing that the dolphins are not subject to cruel chases and it also gives you an unforgettable experience! 
"Thank you very much that everything worked absolutely flawless. Swimming with the dolphins was perfect and our skipper was a very nice guy."  --Tassilo Gernandt who did not miss this unique opportunity
"Thank you for the help! We are very happy with our dolphin experience and the guides were great!" -  Ebba Hedin, another client who enjoyed this unforgettable activity
"I really want to thank you for today's amazing experience. We swam with the spectacular dolphines and they come up really close! It was so fun and cool. Both me and my boyfriend will take with us this memory through life. You have been easy to get in touch with and have answered all my questions. You are also extra clear with important information. Keep up the good work!" - Maja Ormos
Pricing details
The following tours are offered:
Dolphin watching (2 hours): adults 1050 Rs, children (up to 7 years old) 525 Rs.
Dolphin watching and BBQ on Île aux Bénitiers (day trip): adults 1650 Rs, children (up to 7 years old) 825 Rs, drinks and BBQ inclusive.
Dolphin watching and BBQ with lobster on Île aux Bénitiers (day trip): adults 2150 Rs, children 1075 Rs (up to 7 years old), drinks and BBQ inclusive.
Location
Meeting point: La Preneuse, "London Way" supermarket parking lot.
Hours
daily, usually starting at 7 am